Hello Lovelies.......
I have a child like spirit that i hope i never lose. Far too often i see people taking life far to seriously, taking "being an adult" to the extreme. Think about the simple things in life that made you happy and excited as a child. I recall many, the noise of the ice cream truck driving down the road, sand between my toes on the beach, making mud pies and macaroni cheese. I often wonder about how different life would be if everyone kept that child like mentality, how much happier we would all be in day to day life.
One thing i simply cant shake is my pure obsession with a cute little kitty cat named Hello Kitty!. Hello Kitty is a fictional character created by a Japanese company called Sanrio. Hello Kitty made her first appearance on a purse in 1974 ( Ha, i bet you didn't realise she was that old).

There has been some suggestion that Hello Kitty has its origins in

Maneki Neko

, and that the name Hello Kitty itself is a back-translation of Maneki Neko, which means

beckoning cat

in English. Hello Kitty even as her own character profile:
Official character profile
Full name: Kitty White
Birthday: November 1
Blood type: A
Height: 5 Apples
Weight: 3 Apples
Place of birth: In the suburbs of London, England
Favorite food: Mama's homemade Apple Pie
Favorite word: "Friendship"
Description: A bright and kind-hearted girl, good at baking cookies and loves Mama's apple pie. Very close to her twin sister Mimmy.
The one thing i really want to get into in this post is the fashion side of the Hello Kitty world. Dont think for one minute that Hello kitty is simply for little girls aged between 5 and 10. Celebrities such as Kimora Lee Simmons, Katy Perry and Paris Hilton have all been seen adorning them selves in Hello Kitty.
If your keen on going Hello Kitty crazy, then get down to Rosa La Gattina (stores in Bedforview and Melrose arch). Rosa La Gattina aim to promote the Hello Kitty brand in South Africa, I must warn you though, the Prices are insane. I am talking around R450 for a tank top. Besides the prices being mad, they really have an amazing store filled with every Hello Kitty merchandised product you could think of. A stunning Store that is really worth taking a look at, even if it is just to look!
I personally believe that the people who have made hello kitty who she is today in the fashion industry has to be the Harushuku scene in Japan. Harajuku is the common name for the area around Harajuku station on the

Yamanote Line

in the

Shibuya ward

of Tokyo, Japan.
Every Sunday, young people dressed in a variety of styles spend the day in Harajuku socializing. The fashion styles of these youths rarely conform to one particular style and are usually a mesh of many. Most young people gather on Jingu Bridge, which is a pedestrian bridge that connects Harajuku to the neighboring Meiji

Shrine area.
The ladies are commonly known as Harajuku girls, and became famous through Gwen Stafanis Album, Love angel Music Baby (LAMB). Gwen Stafani brought the fashion scene to light by using four Harajuku girls as back up dancers during her tours to promote the album. Subsequently Gwen brought out a fashion line called LAMB that is completely inspired by the Harajuku movement. We salute you Gwen, without you, the Harajuku Movement would not have become main stream and most of us would not be enjoying the influence in the fashion scene today!
Hello Kitty is huge in Japan, so its not surprising that the Harajuku scene use it alot in their styling... check it out: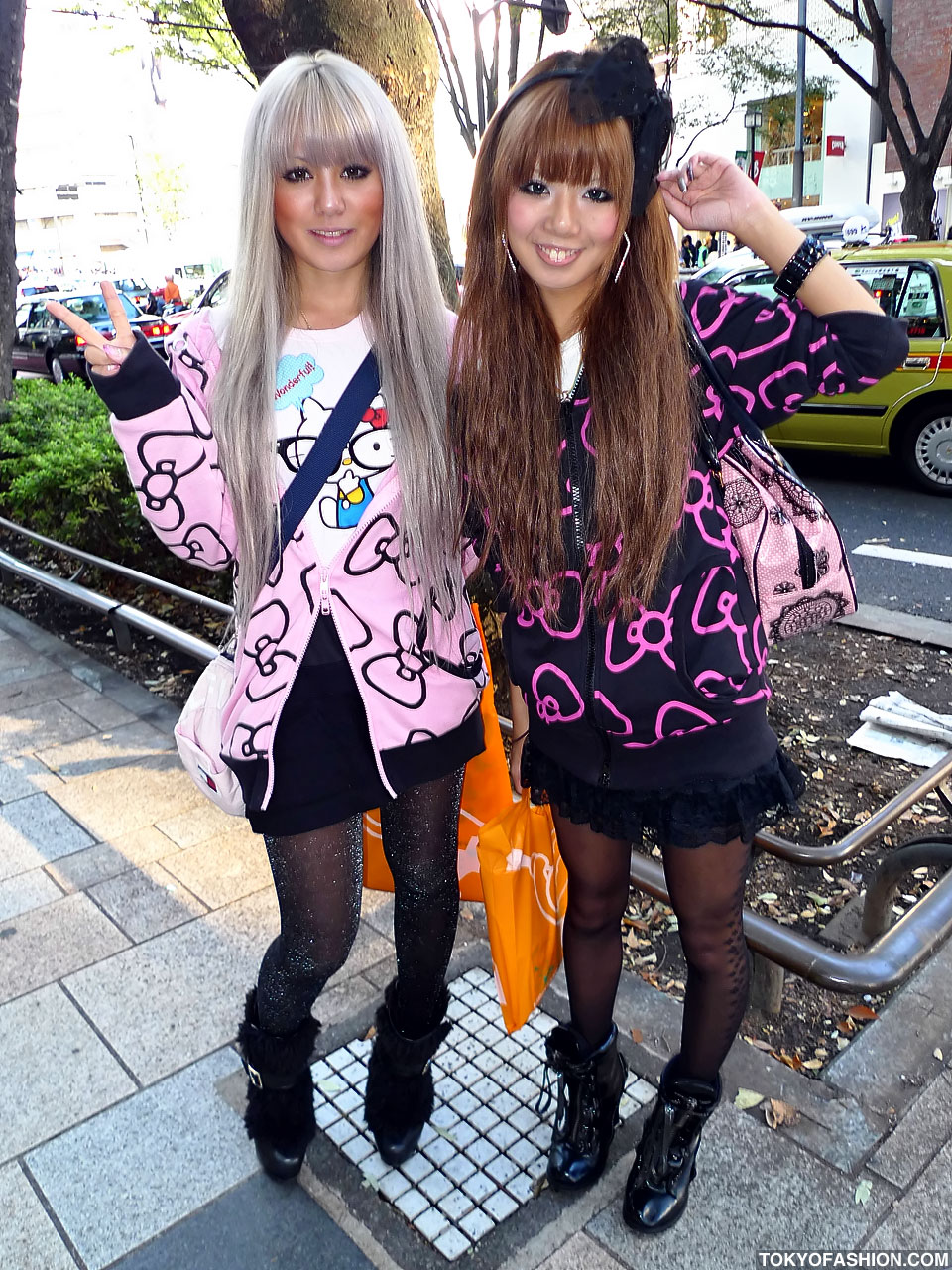 Love the silver hair in this!!!! ah! so cute!.Notice the matching hello kitty jackets.
I
mentioned
in a previous post that i am a MAC girl at heart and so i went gaga when i found out that MAC has a Hello Kitty make up range! I was lucky enough to purchase some of the lip gloss's at the time and absolutely loved it. The range is not stocked in stores in SA any more but i believe you can still buy it online at e bay.
And so ladies lets let the Hello Kitty Harajuku little girl style jump into our wardrobes! dont be afraid to let go, mix and match and just have fun!
Until then lovelies................